Printed from: www.legacy-strategies.com
Stock Diversification: Large, Mid, and Small
The S&P 500 index returned more than 32% in 2013, a great year for the stock market. That was impressive, but the S&P 600 index — which includes much smaller companies than those in the S&P 500 — performed even better, returning more than 41%. In 2015, as the market struggled, small-company stocks lost almost 2%, while stocks of large companies stayed above water and gained more than 1%.1
As these statistics demonstrate, companies of different sizes tend to perform differently in various market conditions. This suggests that holding stocks in companies of varied sizes could help diversify the stock portion of your portfolio. Diversification is a widely used method to help manage risk; it does not guarantee a profit or protect against investment loss.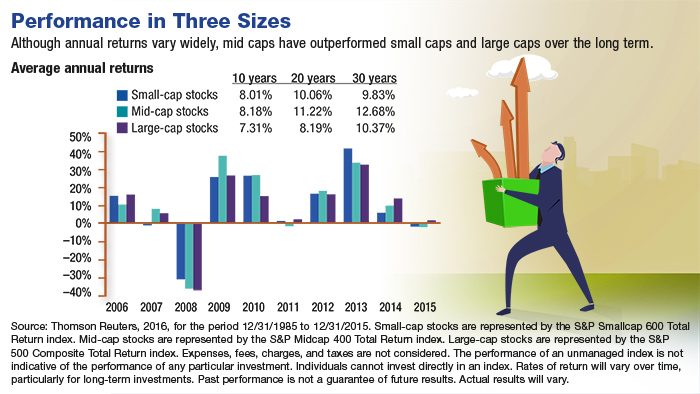 Size, Growth, and Volatility
Companies are typically classified based on market capitalization, which is calculated by multiplying the number of outstanding shares by the price per share. There is no standard classification system, but the Standard & Poor's indexes offer a helpful market cap comparison.2
S&P SmallCap 600: $400 million to $1.8 billion
S&P MidCap 400: $1.4 billion to $5.9 billion
S&P 500: $5.3 billion or more
Stocks of larger companies, or large caps, are generally considered to be more stable than the stocks of smaller companies. Large caps may provide solid long-term returns, but they typically have lower growth potential because they have already experienced substantial growth to reach their current size.
Mid caps may have greater growth potential than large caps, and midsize companies may react more nimbly to changes in the business environment. However, mid caps are associated with a greater risk of loss and volatility than large caps.
Small-cap stocks might offer the highest growth potential of the three classifications because they have the furthest to grow and are more likely to react quickly to market opportunities. However, they are typically the most risky and volatile class of stocks, as illustrated by the performance swing between 2013 and 2015.
Considering the dynamics of these classifications, it may not be surprising that mid caps, which share qualities of both large caps and small caps, have had the best long-term performance over the last 10-, 20-, and 30-year periods (see chart). Of course, past performance is not a guarantee of future results.
Capturing Caps with Mutual Funds
The most convenient way to include stocks of various sizes in your portfolio is by investing in mutual funds that focus on stocks with different market capitalizations. The terms large cap, mid cap, or small cap may appear in a fund's name, but it is important to research the underlying stocks to determine the fund's objectives.
The investment return and principal value of stocks and mutual funds fluctuate with market conditions. Shares, when sold, may be worth more or less than their original cost.
Mutual funds are sold by prospectus. Please consider the investment objectives, risks, charges, and expenses carefully before investing. The prospectus, which contains this and other information about the investment company, can be obtained from your financial professional. Be sure to read the prospectus carefully before deciding whether to invest.
1–2) S&P Dow Jones Indices, 2016
The information in this article is not intended as tax or legal advice, and it may not be relied on for the purpose of avoiding any federal tax penalties. You are encouraged to seek tax or legal advice from an independent professional advisor. The content is derived from sources believed to be accurate. Neither the information presented nor any opinion expressed constitutes a solicitation for the purchase or sale of any security. This material was written and prepared by Emerald. Copyright 2016 Emerald Connect, LLC.